Reformation for Poland
is our new blog dedicated to the Poland 2011 missions trip and replacement of our early Wordpress blog,
Poznan/Gdansk 2011
.
We hope that with the new format and my better knowledge of Blogspot over Wordpress, we'll be able to keep you informed of the mission's progress and activities.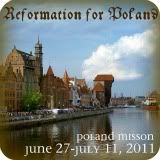 Please show your support by visiting, commenting, and encouraging the team. You can sign up for email updates and feeds on the sidebar. If you have a site where you can link to us, please do so! Spread the word.
If you have not already visited
Peter
and
Miwaza's
site,
Evangelos
, please do so. They have provided some excellent information on our trip, interesting blog posts, and helpful and entertaining videos. We are excited to have two wonderful photographers with us.
Encourage them in their awesome work!
You can see other links related to Poland 2011
here.
Please feel free to give feedback and ideas.
Thank you,
Bethany for the Poland Team